Worship Service Bulletins
At a concert or a play it might be called the Program,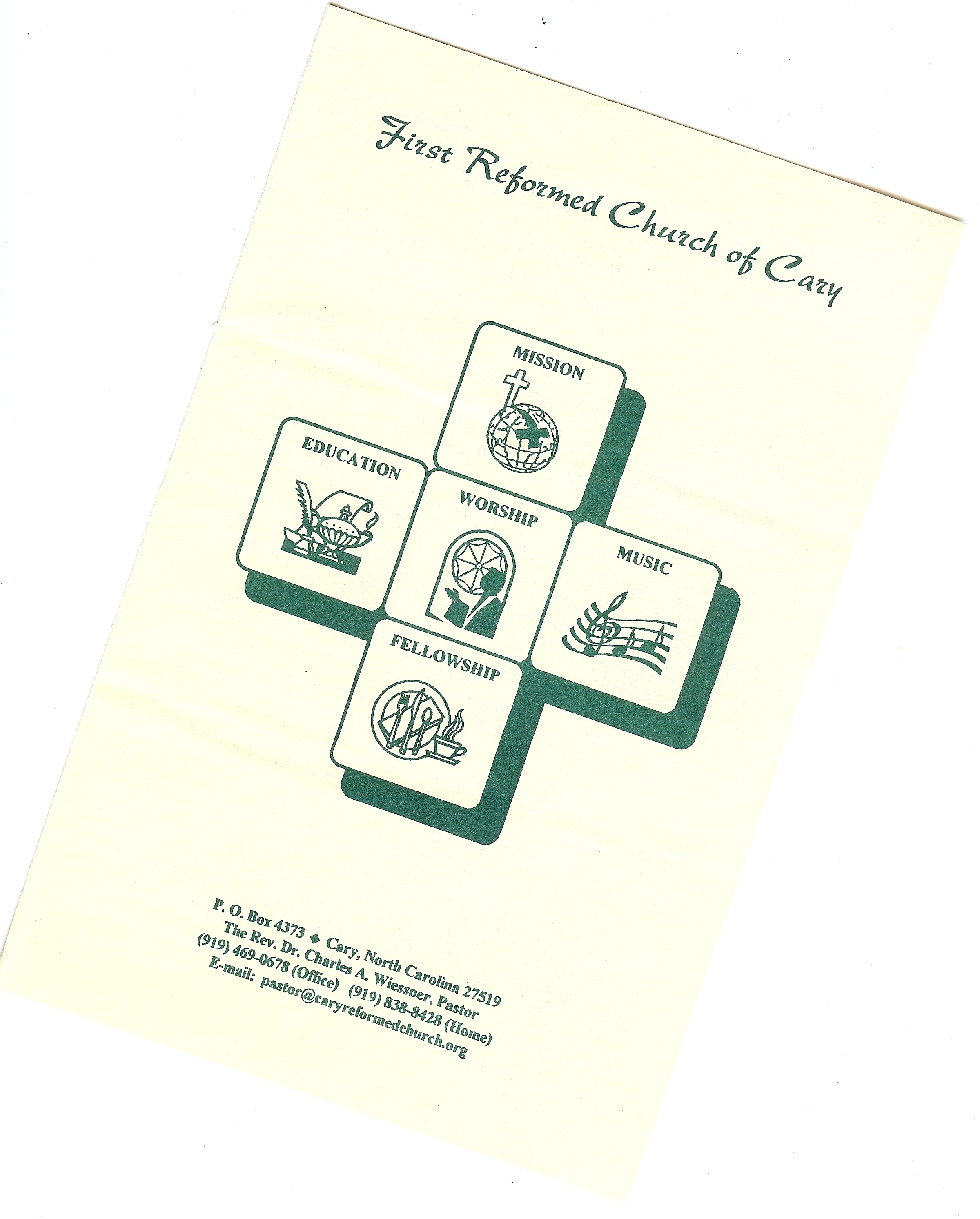 and some churches refer to it as the Order of Worship, but we (and many churches) use the term Bulletin to refer to the document that guides our Sunday services and any special worship services we may hold.

In general, the main content for a bulletin is determined by the pastor and the minister of music. To send items for the announcements page of a bulletin (FRCC-related items only, of course), see the Contact Us page on this site.

We try to post our bulletins here each week in as timely a fashion as possible. To view them, click on the dates of interest below (service time is 10 AM unless otherwise noted). You will need the free Adobe Reader to view these.
2017:

Christmas Eve December 24 December 17 December 10

Jenn Legg Ordination

November 19 November 12 November 12 November 5

October 22 October 15 October 8 October 1

September 24 September 17

August 27 August 20 August 13

July 23 July 16 July 9 July 2

June 25 June 18 June 11 June 4

May 28 May 21 May 14

April 9 April 2

March 26 March 12 March 5

February 26 February 19 February 12 February 5

January 29 No bulletin for 1/22 January 15 January 8 New Year's Day
2016:

Christmas Eve December 18 December 11 December 4

Nov 27 Nov 20 Nov 13

October 30 October 23 October 16 October 9 October 2

September 25 September 18 September 11 September 4

August 28 August 21 August 14 August 7

July 17 July 10 July 3

June 26 June 19

May 29 May 22 May 15 May 8

April 17 April 10

Easter Maundy Thursday March 13 March 6

February 28 February 21 February 14 February 7

January 10 January 3
2015:

December 27 Christmas Eve

December 20 December 13 December 6

November 29 November 22 November 15 November 8 November 1

October 25 October 18 October 11 October 4

September 27

July 5

June 28 June 21 June 14 June 7

May 30 May 24 May 17 May 10 May 3

April 26 April 19 April 5, Easter Sunday April 2, Maundy Thursday (7 PM)

March 29 Palm Sunday March 22 March 15 March 1 (service canceled due to weather, bulletin used for March 8 service.

Feb 22 Feb 15 Feb 8 Feb 1

Jan 25 Jan 18 Jan 11 Jan 4
2014:

Dec 28 Christmas Eve

Dec 21 Dec 14 Dec 7

Nov 30 Nov 23 Nov 16 Nov 9 Nov 2

Oct 26 Oct 19 Oct 12 Oct 5

Sept 21 Sept 14

Aug 31 Aug 24 Aug 17 Aug 10 Aug 3

July 27 July 20 July 13 July 6

June 29 June 22 June 15 June 8 June 1

May 25 May 18 May 11 May 4

April 27 April 20 Easter Sunday April 17(Maundy Thursday, 6:30p)

April 13 April 6

Mar 30 Mar 23 Mar 16 Mar 9 Mar 2

Feb 23 Feb 16 Feb 9 Feb 2

Jan 26 Jan 19 Jan 12 Jan 5


2013:

Dec 29 Christmas Eve Dec 22 Blue Christmas

Dec 22 Dec 15 Dec 8 Dec 1

Nov 24 Nov 17 Nov 10 Nov 03

Oct 27 Oct 20 Oct 13 Oct 6

Sep 29 Sep 22 Sep 15 Sep 8 Sep 1

Aug 25 Aug 18 Aug 11 Aug 4

Jul 28 Jul 21 Jul 14 Jul 7

Jun 23 Jun 16 Jun 9 Jun 2

May 26 May 19 May 12 May 5

Apr 28 (Sorry, this one got lost.) Apr 21 Apr 14 Apr 7

Mar 31(Easter) Mar 31(Easter Sunrise, 7a)
Mar 28(Maundy Thursday, 6:30p) AND Mar 24(Palm Sunday/Passion Sunday)
Mar 17 Mar 10 Mar 3

Feb 24 Feb 17 Feb 10 Feb 3

Jan 27 Jan 20 Jan 13 Jan 6


2012:

Dec 30 Dec 24(Christmas Eve) Dec 23 Dec 16(Blue Christmas, 6:30p)
Dec 16 Dec 9 Dec 2